May 13, 2021
Digital Marketing
Being considered as more advantageous and preferred marketing method than the traditional marketing in today's world, digital marketing is a fast-growing world for advertising your products and services electronically. It is also the most developed open marketing method and is just at the beginning of the marketing game! Everyday another new firm, company or person takes its first step in digital marketing to present what they offer and no doubt that it wouldn't get much better than starting to use digital marketing in such a time when the whole world is stuck home due to the COVID-19 lockdowns.
Before exploring the wide world of digital marketing, let's first get you start with the term of marketing itself!
What is marketing?
Marketing is all the actions you make in order to introduce your products and services, or basically what you want to sell, to your potential customers. Marketing focuses on target. These brands and firms we are talking about are aware that they need to know your target well and to do this, they use market research, analysis and tools to understand their ideal customers' areas of interest. Back in the time where we did not have internet, it was rather difficult to search for customers, analyze their needs and wants and create a potential customer pool. However, digital marketing is here in our lives making it all easy both for the seller and the buyer.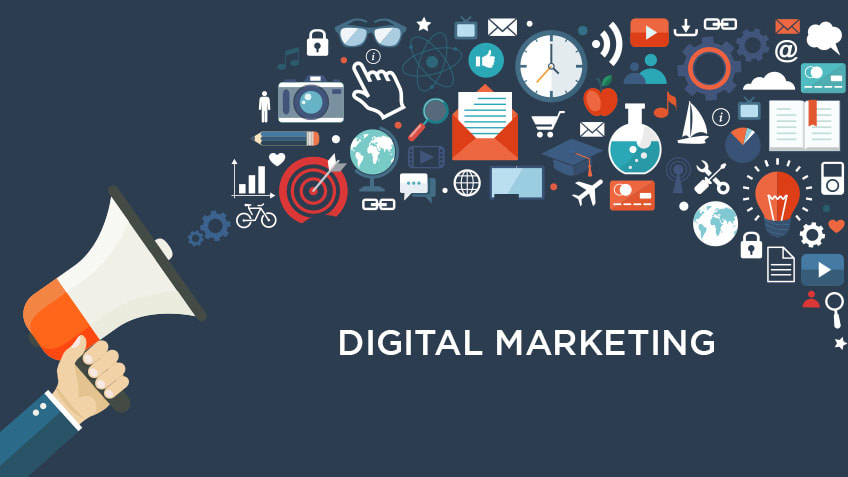 Where can we use digital marketing?
As it has become a necessity, not a choice, for brands and firms to use digital marketing and thanks to the ever-growing technology, digital marketing's usage areas are constantly increasing but the most used areas are:
Blog posts and product descriptions
Online brochures and catalogues
Brands' logo, font and color values
What are the techniques in digital marketing's ecosystem?
Social Media Management
During a period when the usage of smart phones has become widespread and almost everyone has one or more social media accounts, one of the easiest methods for sellers to reach out to customers is social media. Through a professional social media management, sellers find an effective opportunity to present and sell their products. Well managed social media accounts are followed by hundreds, thousands and even millions of people and that kind of interaction comes along with more attraction to the advertisements and eventually more sales. Remember that in today's world, social media is not only Facebook! Apart from Instagram, Twitter and YouTube, even TripAdvisor and Airbnb are regarded as social media platforms.
Search Engine Advertising
Another method considered as the most effective among digital marketing techniques is surely to use search engine advertising. These are the advertisements that you come across on the result pages of search engines such as Google, Yandex etc. Search engine advertisements are very influential in order to reach target group through keywords. Google allows sellers to use Google Adwords that enable sales success with advertisements which are placed with right keywords. Other than Adwords, you can check Yandex Direct and Bing search Ads for the same purposes.
Search Engine Optimization (SEO)
SEO is basically the in and out-site activities which provide your website a better location in search results for the keywords you determine. SEO enables search engines to realize and understand your website easier and faster. In-site SEO is all the process of your website's technical infrastructure, the experience and interaction it creates and what you offer to users. Out-site SEO is about the interaction you attract outside of your website coming from other users' directions, advises and mentions for your website. (Click here and see e-commerce SEO optimization posts.)
Our phones are always on our hands and laptops on our laps these days. It means that everyone unavoidably consumes contents very fast and look for the new ones. On social media, video platforms and blogs, millions of contents are published and consumed every day. So, contents have become prerequisite in our daily lives. In this direction, search engines give priority to the websites which produce the most qualified contents. Content marketing does not focus on introducing an advertisement to users; instead, it aims to provide a content which attract users' attention, serve them well and add value to them. These focuses ensure the advertisements of brands, firms, websites etc. to be more attractive than other traditional advertisements and create a trust for them.
Mail marketing is a way to reach the consumers directly via electronic mail. Although it is an old technique than the above-mentioned ones, it still has one of the highest retention rates in digital marketing and it is cheaper than most of the methods which give you the opportunity to form interaction with your customers, make sales and create brand loyalty. Considering that the one-third of the world's population has a mail account and 47% of the digital marketing experts evaluates e-mail marketing as the most effective marketing technique, it can turn into a quite beneficial marketing tool for your firm when used with the right strategies.
The fact that mobile device usage has been ahead of desktop device usage for a long time. Almost everyone who use social media or shop online reach what they are looking for via their smartphones. For this reason, having a website or application designed for mobile devices such as smartphones, tablets etc. will increase your interaction with potential customers.