June 22, 2021
E-Commerce Models
E-commerce which entered our lives through the use of the internet is an abbreviation for electronic commerce and it does not cover only the shopping you do online. E-commerce is all the commercial interactions made on the internet. You can move your business to the far end of the world thanks to e-commerce. You can sell your products and services on your website and can own a more global company. It has a big role in branding process and is the first thing that comes in mind when we talk about making money online.
What is e-commerce?
E-commerce is the online transactions of purchasing real or virtual products and services in return of money via certain systems. It can be explained as the internet version of all your purchasing interaction. As we are familiar with the ads on tv, all the popular online stores define e-commerce. Information, products and services are the values that are sold and purchased in the context of e-commerce and these transactions are realized via computer networks.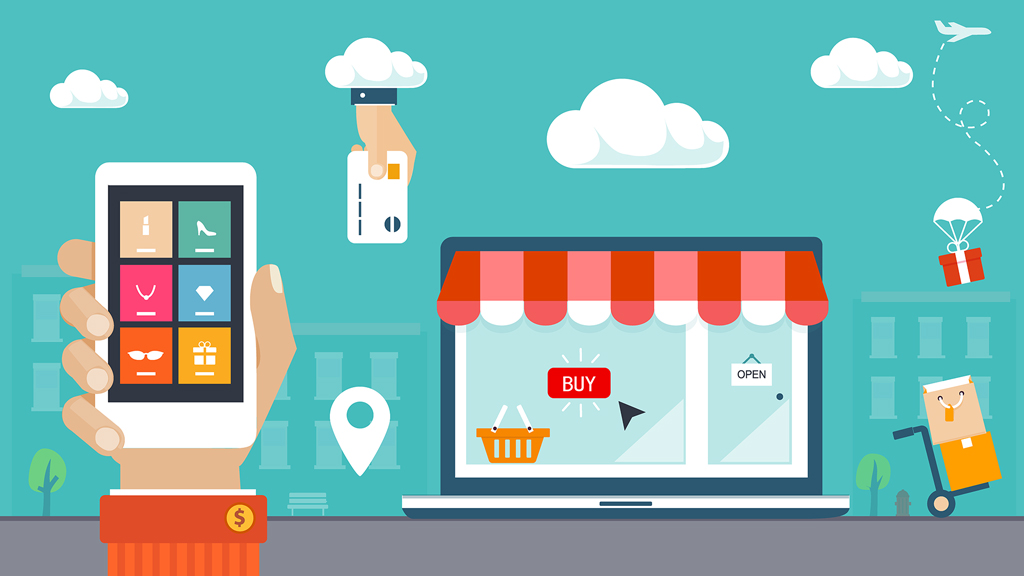 How did e-commerce develop?
E-commerce can be seen before 1980s. E-commerce used to involve the catalogue sales on television and telephone. However, this kind of e-commerce could not have the potential as effective and powerful as today's e-commerce. Since the technological developments has increased fast, computer usage has become more common and the term of conscious consumer took shape, e-commerce has gained a high potential. Thus, it is obvious that the impact of e-commerce will increase in the future and continue to be developed.
E-commerce Models
E-commerce models differ according to the use of electronic commerce. As it developed, new business models have been created within it. These models sometimes involve consumers, businesses and even public enterprises.
As a beginning, we need to understand the difference between direct and indirect e-commerce. Direct e-commerce is the online marketing of the goods and services that do not have any physical meaning. These goods and services can be computer programs, leisure and music, visual or audio works and productions, and consultancy and aid services. Some applications and services such as Spotify, Netflix, Amazon Prime etc. are also included in direct e-commerce. Indirect e-commerce is the commerce in which the consumers pay foor a product online, the order is taken, the business owner send the product by courier and the courier delivers it to the customer. For example, a headphone purchased on an e-commerce website is indirect e-commerce.
Some of the most common e-commerce models according to their parties are as follows:
B2B (Business to Business): The businesses which prefer B2B e-commerce model do not sell product directly. B2B e-commerce model involves producing company selling products to wholesalers or wholesalers to retailers. B2B is about wholesale from business to business. It is a very advantageous model when considered from the point view of SMEs and an e-commerce model through which the SMEs can trade goods and services online. The usage of B2B for businesses is also important in terms of decreasing costs and increasing productivity.
B2C (Business to Consumer): In this e-commerce model, the target is the individual consumers. The shopping consumers do from an online store is the model defined as B2C. the most common B2C examples are Amazon, AliExpress etc. It has a lower trading volume than B2B. The main reasons for its lower trading volume are the existence of the mass who still do not trust the internet and insufficiency in informing consumers about e-commerce.
B2G (Business to Government): B2G explains the commerce between businesses and the government. It involves the commercial transactions, taxes, customs transactions, statistics and licenses. Electronically managed transactions and the announcements of public tenders are some examples for B2G e-commerce.
B2E (Business to Employee): B2E is the e-commerce model in which the employers sell products online only to their employees. For example, a clothing company can sell its unsold inventory to its employees for a cheaper price.
C2C (Consumer to Consumer): it is an e-commerce model parallel to B2C. In this model, consumers trade between each other online. Trades happens in forms of open biddings or publications. The consumers can make sales via e-commerce websites without entering into commercial obligations. E-Bay or Craigslist are the examples for C2C.
C2G (Citizen to Government): This e-commerce model involves the obligations of citizens towards their governments. For example; citizens' taxes, tickets and insurance payments on official government websites are C2G e-commerce.
G2B (Government to Business): It is the e-commerce model realized from government towards business via different methods such as tenders. The e-commerce websites that governments established in order to purchase the products they need. It is the opposite model of B2G e-commerce.